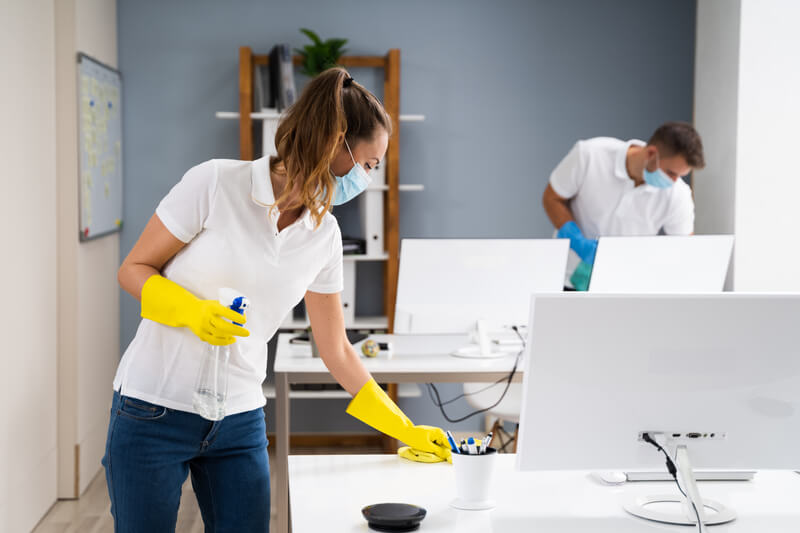 There are many types of commercial cleaning services. The term covers a broad range of services tailored to a variety of industries. Depending on the building being cleaned, different equipment, cleaning products, and appropriately trained staff are needed. With so many options available, it can be overwhelming to find the right cleaning services for your requirements. Keep reading to learn what types of commercial cleaning services are right for you.
As there are many benefits to commercial cleaning, don't miss out on what it can offer your organisation today. Whether you need to keep your office, warehouse, or school clean and hygienic, commercial cleaning offers a service that matches your needs. To help you make the right decision, we've made a list of the main types of cleaning services and how they benefit you today.
Office Cleaning
Offices are often hiveminds of activity. They're full of staff collaborating on projects, laughing on their breaks, and working away diligently at their desks. The hustle and bustle of a busy workday means that regular office cleaning is needed to maintain a hygienic, productive, and positive work environment.
Commercial office cleaners visit your workplace early in the morning before your staff have begun arriving or late in the evening when everyone has gone home for the day. This flexibility ensures your office is always ready for your team without the cleaning impacting the working day. Professional cleaners will hoover the carpets, mop down the flooring, and wipe down desk spaces and kitchen surfaces. They will also keep the toilets well maintained, so you don't have to.
Carpet Cleaning
Everyone knows that carpets can quickly become messy. Crumbs, spillages, and people's shoes all mean carpets need regular cleaning whatever industry your organisation is in. Offices, restaurants, and hotels all have carpets that require cleaning to ensure you're giving guests and staff the best impression of your business.
The right commercial cleaning services will use specialist cleaning products to keep your carpets looking their best. Stain protection, anti-static treatment, infestation treatments, and chewing gum removal may all be necessary to maintain your building's carpet too. As well as hoovering, the water extraction method is essential to use as part of commercial carpet cleaning. This method gives the cleaner control over the temperature of the cleaning agent when it's applied to the carpet ensuring you get the best results possible.
Window Cleaning
Windows are one of the first things people notice when they approach a building. For clients, customers, and guests, the sight of unclean windows won't leave them with a positive impression. Over time, dirt, dust, and grime build up on the glass. Avoid any potential negative reactions by booking commercial window cleaners.
Cleaning your windows yourself may sound simple but the task presents many challenges. For starters, you need the right cleaning products and equipment to avoid streaks or damage to the glass. You also need to reach high-level windows safely. Professional cleaners employ a ladder-less system that allows them to reach up to 30ft high, around the height of a 3-storey building.
Industrial Cleaning
Industrial cleaning is essential for maintaining hygiene in factories and manufacturing environments. Due to the heavy-duty machinery that requires cleaning, the cleaners must be highly trained and have the appropriate cleaning products and equipment. Reduce the risk of accidents occurring, both from an unclean industrial environment and while cleaning the workplace, with expert commercial cleaners.
Ensuring your industrial workplace is clean improves productivity, makes sure you're meeting health and safety standards and increases the lifespan of your equipment. Industrial cleaning services cover many areas. Here are some examples of the types of commercial cleaning for industrial workplaces:
Builders Cleans
Deep Cleaning
Janitorial Supplies
Graffiti Removal
Floor Cleaning – including stripping and resealing
Kitchen Cleaning
Maintaining exceptional hygiene in your kitchen is essential. Commercial kitchen cleaners keep your workplace looking spotless, free of harmful bacteria, and compliant with health and safety regulations. Through regular high-level training, cleaning staff have the knowledge needed to quickly and efficiently ensure your kitchen is ready for service.
Multiple areas need to be cleaned in a kitchen, as well as machinery and tools. Here are some of the features of your commercial kitchen professional cleaners can maintain:
Ducting
Ovens
Canopies & Filters
Fryers, Griddles, & Other Kitchen Equipment
Refrigerator Units
Food Preparation Systems
Deep Cleaning
Warehouse Cleaning
From small businesses to international corporations, keeping your warehouse clean and tidy is vital for your operations. Unclean floors, work surfaces, and equipment all present health and safety risks as well as affect the appearance of your workplace. Whatever your requirements, professional warehouse cleaners will use their skills and specialist tools to ensure your workplace is clean and hygienic.
Dust and debris build up fast across vast storage spaces. Hiring commercial cleaners to ensure these areas are consistently well maintained. The same is true for specialist ventilation and air conditioning systems, both need cleaning expertise to ensure they're safe, operating effectively, and durable.
LCS Commercial Cleaning Services
Keep your workplace looking its best, discover expert commercial cleaning services from LCS today. Our team understands the value cleaning offers to businesses, across all industries, which is why our services have grown across Northampton and the surrounding areas. Learn how we can benefit your business today, call us on 01604 926004 or visit our contact page to enquire further.